This evening I felt like having a little something sweet, so I decided to make some blueberry muffins! I must say, they turned out pretty good! So good that half of them disappeared before I could get a picture of them! LOL
I'll post the recipe below. I wish it could be formatted better, but I can't seem to find a gadget for recipes here on Blogger. If any of you know of a good way to post recipes, please let me know in the comments section! Thanks!
By the way, here I am in the new apron my good friend gave me for Christmas! Thanks Debi!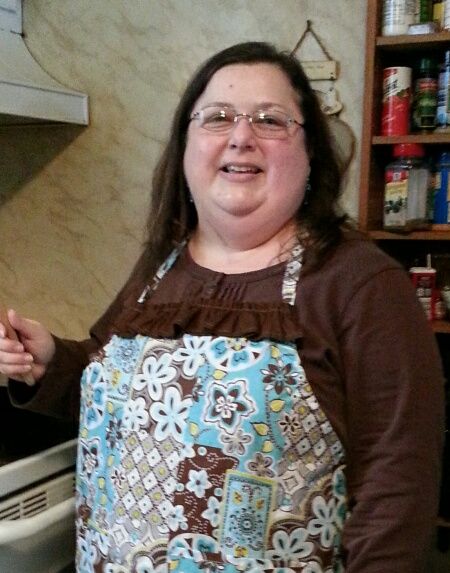 Shannon's Whole Wheat Blueberry Muffins
Ingredients
1 1/2 cups whole wheat flour
1 cup packed brown sugar
1 tsp cinnamon
1/2 tsp salt
1 tsp ground
flax seed
2 tsp baking powder
1/3 cup vegetable oil
1 egg
1/3 cup water
1 cup unsweetened applesauce
1 pint (2 cups) fresh or frozen blueberries
Directions
Preheat oven to 400 degrees. Grease 12 muffin cups or line with paper liners. Stir together the flour, sugar, cinnamon, salt, flax seed, and baking powder in a large bowl.
Stir oil, egg, water, and applesauce together in a smaller bowl. Then add to dry ingredients. Stir until smooth. Lightly stir in berries. Spoon mixture into 12 muffin cups.
Bake muffins in the preheated oven until they rise and tops are golden brown (about 20 minutes). A toothpick should come out clean when inserted into the center of a muffin. Allow to cool for 10 minutes in the pan, then move to a baking rack to finish cooling.
Enjoy!